The year was 1995, Patt Connolly and Gerry Cannizzaro had just finished releasing the second BRAINSTORM album, "Variations On A Dream" and Gerry was looking for another project to produce that was timely and edgy.
One of the artists being promoted by Rock Dog Records at the time was Elijah. Maria Cuccia, the composer from Elijah, lived in Syosset NY, where she produced two best selling meditation CD's. One of them, "Circadian Breath" was Rock Dog's top seller at the Whole Life Expo in both Pasadena and Los Angeles, three years in a row.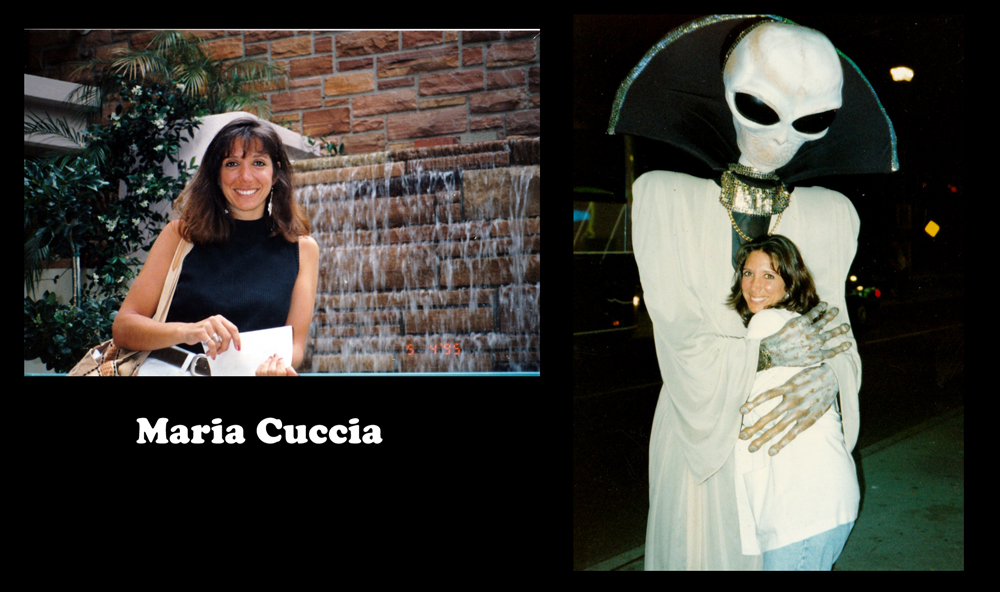 Besides being a mediation expert, Maria told a very interesting story about being abducted and sexually inseminated by aliens, and then giving birth to a hybrid baby, only to have it taken away, never to be seen again. Her story seemed ludicrous… but then to look around it seemed that in the 90's the alien abduction narrative had successfully wound its way into the mainstream and was now quite the "fad".
It started in the 60's with the famous abduction story of Betty and Barney Hill, fed over the years by science fiction films like "Close Encounters of the Third Kind", "E.T.", "Independence Day" and TV shows like "Alien Autopsy".
In late 1980s, people whose stories would have been dismissed as delusional a generation earlier were now being interviewed by Oprah and "true stories" of alien experience, such as Whitley Strieber's "Communion" and Budd Hopkins's "Intruders," were bestselling books and the biggest written by John Mack, a Harvard professor and psychiatrist who compiled his study of the phenomenon into a 1994 book titled "Abduction: Human Encounters with Aliens" which seemed to legitimize the phenomenon and put it in the face of mainstream science to take a closer look at what was happening.
And it wasn't just books — one of the most popular television shows of the 1990s was devoted almost entirely to alien conspiracy theory: "The X-Files."
Noting that all of these things heavily influenced people's beliefs about what might be true, what might be plausible and noting the sudden need in the market for audio/video content about Aliens, Gerry decided to take on Maria's story and attempt to bring her abduction experience to life in the form of a concept CD titled "ABDUCTION".
It was a real challenge to produce the music, says Gerry. "Twice I had to fly to Syosset NY with an Alesis ADAT, a Panasonic portable DAT recorder, a bag of microphones, an AKAI sampler and a Roland MC-50 MIDI Sequencer stuffed into a suitcase in order to record basic tracks using Maria's instruments.
Her voice was recorded into a sampler and other analog instruments were recorded direct onto the portable DAT. Maria's Yamaha SY-85 keyboard parts were recorded onto a sequencer and then multi-tracked onto the ADAT along with a track of sync code so I could synchronize the drums and other multitimbral sound modules back at Saturn Studios in Hollywood.
On the Saturn Studios end, I solicited a few friends from PAROUSIA to help fill out the recordings (for free), without changing the integrity of Maria's compositions. I brought in Patt Connolly to play flute on a few tracks and begged and prodded Jonathan Hall, my roommate to contribute his acoustic and electric guitar handiwork. Ex-Parousia Guitarist Iain Ashley Hersey and bassist Bill Simms dropped by the studio and after plying both with alcohol and "other comforts" I immediately coerced each of them into recording bass and electric guitar on several tracks. On two songs, Bill also contributed his deep hypnotic voice which had the perfect timber for "the psychologist" character.
After the basic tracks were done, Maria flew out from Long Island to Hollywood for overdubs, final mixing and mastering down to DAT. Then, off to "Optimax" (the CD manufacturer), for pressing.
Not long after the CD was published, it began getting airplay on "New Age" radio stations in the U.S. and internationally. Maria was asked to appear on a couple of network TV shows in New York City and California. Such as the LA talk show, "The Other Side", where Maria sat with her husband in front of TV cameras and bravely told her story to the world (and to promote the 'Abduction" CD of course, hee, hee, hee).