This band's very first 'city of Los Angeles gig'. Two weeks prior, the band broke in Southern California at a club named "Madame Wong's West" located in the city of Santa Monica and not Los Angeles. So, this was it… Parousia's Big L.A. club debut!
Club 88 was a former strip-club gutted to the bare bones and converted into a music venue, located on Pico Boulevard between Bundy Ave and Barrington Ave in an area known as L.A'.s "Bermuda Triangle of Traffic". Club 88 was the kind of club where just about every unsigned band in Los Angeles played on its stage at one time or another. From those of you from Western NY, as a comparison, it was similar to McVan's located in Buffalo, NY, on Hertel and Niagara.
Club 88 smelled like cat pee due to the many cats living inside the club to thwart the promulgation of rats.
In regards to its ranking in the local rock scene, Club 88 was known as a "lower-tier" club, when compared to West Hollywood with Club Lingerie, Roxy, Gazzarri's, Troubadour, Viper Room and the Whisky a-go-go .
Club 88 wasn't in the hot spotlight of West Hollywood and for that reason, it was a comfortable and low-stress club to perform at. It had a spacious backstage area appropriately decorated with graffiti from all the bands that had passed through before us. It had two stages. The "small stage" located by the bar where the house band, Celibate Boxer always performed and the "big stage" that ran wall-to-wall and was perpendicular to the small stage.
The big stage stood about a foot and a half off the ground and the outer wall of the stage was lined with puffy vinyl which i don't think served a practical function, (such as sound absorption). More likely a relic from the 70's, put in place to prevent mosh-pit participants from bashing their knees against the stage.
Club 88 was named after a popular club in Tokyo. The barmaid, (who was easy to anger) ran the place. She also played in the house band, Celibate Boxer, when she wasn't serving drinks.
The owner of the club was Wayne Mayotte. He worked there as part time bartender, booking agent, accountant and general manager. Before opening Club 88 in Los Angeles, he worked primarily overseas in the Far East for more than 25 years. Mayotte was a retired mechanical / structural engineer and former Air Force pilot during the Korean War. He had plans of opening a jazz club in America similar to Tokyo's Club 88, but later decided to book bands of all genres. In particular, bands from the popular punk and new wave trend sweeping the country.
Club 88 came equipped with its own P.A. and lighting and the sound engineer did a great job with the sound overall. He liked our band because, unlike the hard-core punk bands "there was a real need to pay attention to how the instruments blend together in the mix".
Walking around the club, you couldn't help but notice all the band flyers from shows gone-by, lining the walls inside the entrance-way.
It was really cool to see so many great bands that played on the same stage and went on to get signed to a major record label. Bands like The Go-Go's, Berlin, Missing Persons, Black Flag, "X", Faith No More, the Red Hot Chili Peppers and The Weirdos, to name a few.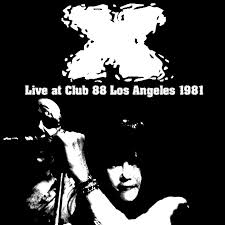 Around this time, the band name Parousia landed some press in the local independent newspapers and finally it seemed as though things were looking-up after a year of adjusting to life in Southern California.
On May 1st Parousia is featured in Rockpool magazine (the premier indy underground music mag) and we made some friends over at KROQ radio. D.J.'s 'Ken Fusion' and 'Jed the Fish' began broadcasting our song "Place Your Bets" on 106.7 FM, a major alternative radio station in Los Angeles and Orange County. Jed The Fish introduced "Place Your Bets" as having a progressive-rock sound that is somewhere between 'Yes' and 'Asia'.
When the band was assembled backstage before the show, we took a moment. We all looked at each other and really couldn't believe it… Here we were, just a little ol' four-piece band from Buffalo, NY that finally made it onto the stage in the megalopolis known as Los Angeles, California.
Patt read aloud his list of "most important things to remember" before the four of us took the stage. Patt's sentiment motivated us… (it also scared us which helped motivate in a different way). With all that energy, Parousia exploded onto stage like a high-school sophomore having sex for the first time, (and afterwards we were just as sweaty). Yes, I had a cigarette.
Many of our new L.A. friends, fans and well-wishers attended the show to cheer us on. Wayne, the bar owner and yes, even the 'chronically angry barmaid' enjoyed the band's performance. They especially liked the flute sound. With that, (and the fact that most of our fans were decent tippers), PAROUSIA was invited back to perform six more times at Club 88 and one of the last bands to play there when it closed its doors in 1990.