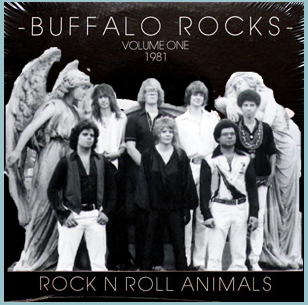 This is an audio track of "Miss Ogyny" by Parousia released on the 97 Rock Home Grown album, "Buffalo Rocks" and the story of how it came to be.   On February 18th, at 9:00 am, Parousia was notified by Starstream Records that our song "Miss Ogyny" was chosen to be on the first 97 Rock "home-grown" album.  This was a big deal for us to get airplay on WGRQ FM, a major AOR/classic rock radio station in Western NY.
The record label required that we submit a 24-track master tape of the song asap… problem being… we only had the four-track version that we recorded back in June at Randy Filippone's studio.  On February 19th at 3:00 am, Parousia re-recorded a 24-track version of Miss Ogyny at Select Sound.  We made the deadline and our song made it onto the album, although it was a rushed last minute job so we didn't really have a lot of opportunity to do much to it production-wise.
I still have my album – 2 copies actually, because Mary still has the one that was given to her by her friend, 97 Rock DJ Carl Russo, long before we met.  Small world, huh?  The 97 Rock album was our first and only vinyl recording of Parousia.  Unfortunately, I don't have a turntable so I don't even recall what that version of the song sounded like.  I'll have to find somewhere to digitize it so I can post it here – unless it sucks, in which case I'll post a better version 🙂
97 Rock 'Buffalo Rocks' Album Trivia:
Starstream Records release #BMC-80110… Buffalo Rocks Volume One 1981 LP (1981), 97 Rock WGRQ FM, w/ Mike Mazur and the Blue Collar Band, Teaser, Secret Savior, Raven, Stross Fletcher, Benhatzel, Dear Daddy, Cheater, Third Floor Strangers, John Hilliard Band, Parousia, Mike Mazur.
Starstream Records was the record label for Starstream Communications Group, Inc., a Houston, Texas based radio Promotions Company (1980–1990).  Alumni of Starstream albums include Bon Jovi (WAPP), Twisted Sister (WAPP), Jon Butcher (WCOZ) and The Replacements (KQDS).
In the early 80's, members of the popular local Western New York cover bands Cock Robin (Bill Shaver & Dave Bienik) and Weekend (Ned Wood) formed a new band called Dear Daddy.  The band recorded and performed only original material.  In addition to headlining at local venues, Dear Daddy opened concerts for Eddie Money, Rick Danko (of The Band) and The Kinks.  The song "We'll Be On Our Way" was written by Ned Wood and Bill Shaver and was included on the first Buffalo Rocks album in 1981.
The Parousia Track "Miss Ogyny" appeared on a Web site that lists "Punk Bands in Western NY" called CollectorScum (they actually mention a lot of bands I forgot all about, check it out).  See their listing of songs from the 97 Rock album below: They say Parousia was "allegedly punk"…
I can see how we created that impression.  When Kim and I wrote that song, it was heavily influenced by "new wave" acts like The B-52s, The Talking Heads, U2, The Cars and Blondie.  Yes, those were not mainstream artists at the time.  Also, with songs like "I Like People," and considering we played the "punk" circuit and some of us hung out in the punk/new wave scene quite a bit, and considering we didn't really have any boundaries to our musical identity at that time, it wouldn't be hard for some people to think of Parousia as somewhat punk… until we break into Perpetual Change, Squonk or Free Bird, anyway.
I'm told Barry has a good story about hearing Miss Ogyny on the radio for the first time – – maybe if we ask real nice, he'll share it with us!