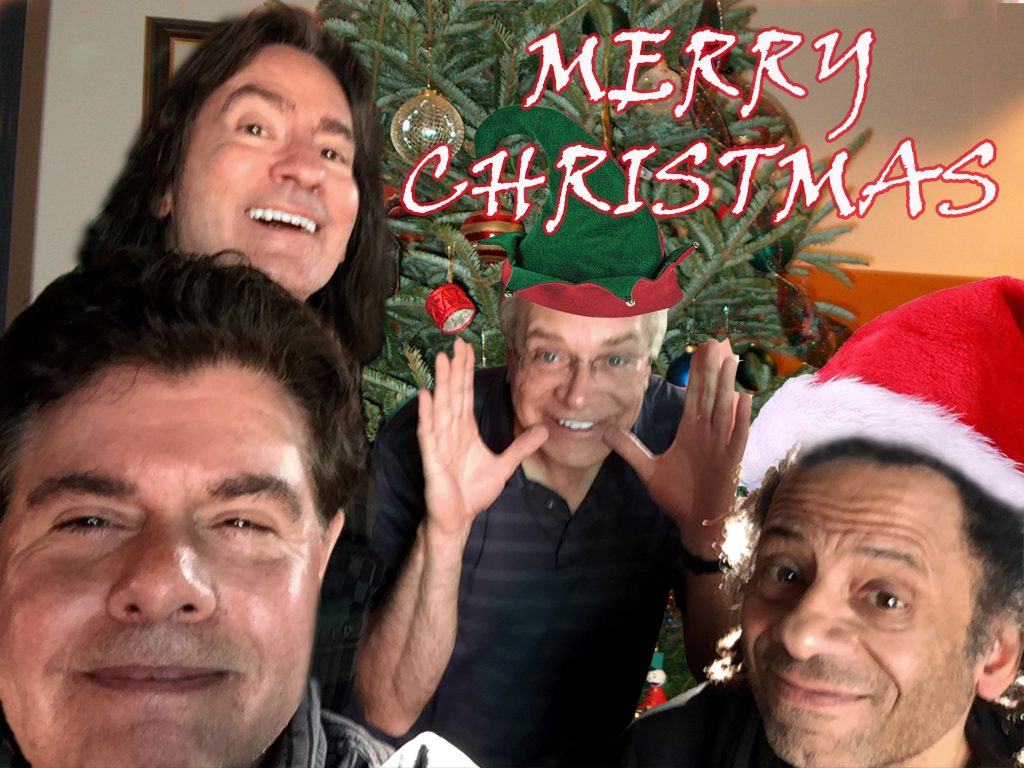 Here is the band's Christmas Song that began in the spring of 2019, not long after distributing and promoting "Moon Dogs", (Parousia's first two new studio recordings in over 30 years), the band discussed writing and recording a Christmas Song for release in December 2019. Discussions turned into planning and by summer, the band had a working structure for Parousia's third new song, "The King of Christmas".
Planning began when Robert Lowden wrote and recorded a demo of the song on his studio computer. When he presented it to the band it was good but raw, with a blazing rhythm guitar track over "drum drops". From that, Patrick and Gerry refined the structure of the song and then laid down basic drum and piano tracks onto 24 track ADAT.

The drums were recorded in the studio, using a Roland V-Kit triggering various drum modules, direct to 24-track ADAT. The piano was recorded using a Studio Logic 88-key weighted keyboard, triggering various Roland and Korg sound modules. At first, the piano intended to be a temporary track, to provide the rest of the band with a reference only, but when it came to mixing, it was decided to keep much of it in the refrain and at the end of the song, to drive-home the melody.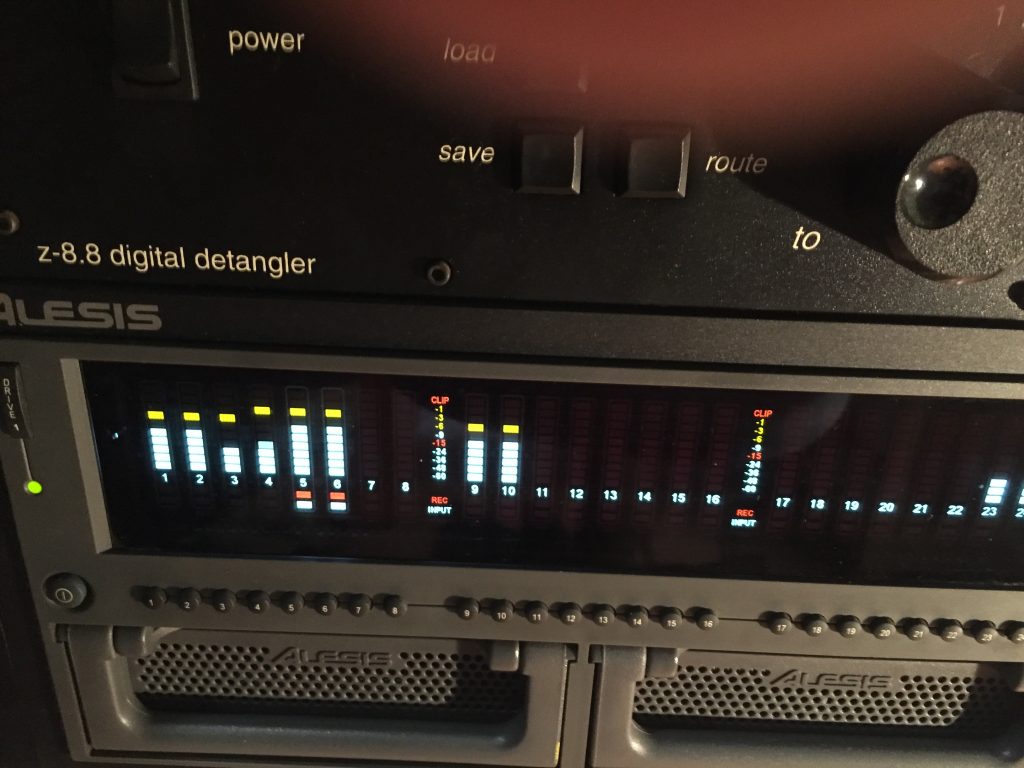 At each stage of recording, reference mixes were provided to all band members and Garth Huels, in Arizona would experiment with lead-guitar using his home studio computer.
After the drums, the bass guitar was laid-down by Robert Lowden in September 2019, using a Johnson J-station direct to 24-track ADAT. In the same session Robert laid down the rhythm guitar track using a tweaked patch in the Johnson J-Station, direct to 24-track ADAT.
Now that the song was taking on more of a distinct shape, Robert, Gerry and Patt started to hash out basic ideas for the lyrics. Later refined and completed by Patt and Gerry in October (it wasn't easy developing lyrics for a Christmas Song months before Christmas, so we waited until Autumn).
The lyrics took more time to write and refine than planned for and were not finished until the end of October. Time was getting short, at times we weren't sure if the song would be ready with Christmas less than two months away and Christmas marketing already in full-swing everywhere.
Now that the words to the song were finalized, Patt Connolly laid down the vocal and flute tracks mid-November using an Audio Technica 4050 condenser mic thru a TC-Electronic Helicon 'Voice Prisim' direct to 24-track ADAT.
The last two hurdles kept us wondering if we would make the Christmas deadline. Lead guitar tracks and then mixing and mastering.
On the weekend before Thanksgiving, Garth drove from Arizona to Hollywood to record his rhythm and lead guitar parts using his PRS S2 Satin Standard 24 and Schecter Hellraiser C-1 FR-S electrics, and a Samick Greg Bennett Design acoustic guitar thru an AVID Eleven Rack, direct to 24-track ADAT.
Patt, Robert and I had no idea what Garth had in mind for lead parts but during the recording when Garth let it rip for the first time, it blew our minds! At the end of the November session it was clear that this song was going to rock!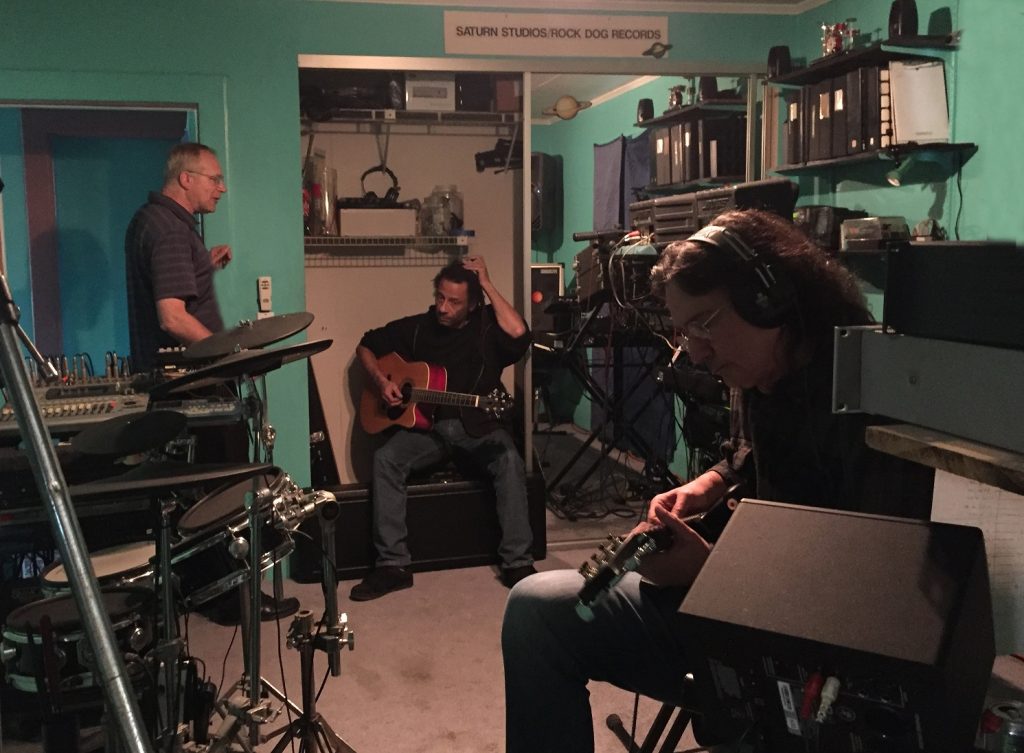 On December 8, I was finally ready to mix and master the tracks with Patt Connolly assisting. Realizing Christmas was two-weeks away meant we had to finish the song today, if it was going to have a chance at being heard on the airwaves this year. The tracks were mixed using three Yamaha Pro-Mix 01 mixers connected in series, direct to a Tascam SS_ 200 two-track digital recorder and then mastered using a TC-electronic "Finalizer" onto a Panasonic DAT recorder.
On December 9th, "The King Of Christmas" made its debut onto SoundCloud and became visible to our fans and friends everywhere. We all hope you enjoy our musical Christmas Song and that it brings some thought and awareness to a growing problem in densely populated cities across America.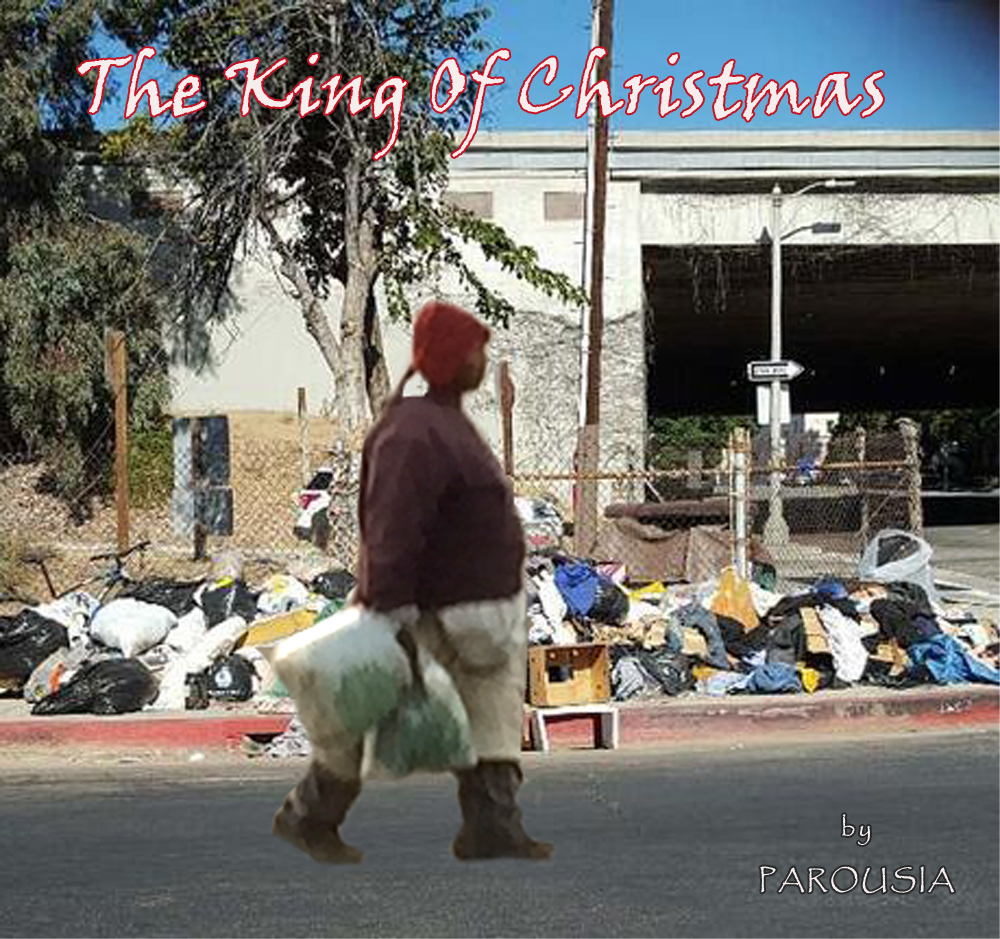 Next year, Rock Dog Records will officially distribute "The King Of Christmas" to all of the major music streaming sites, plus a music video debut on YouTube.