The Rusty Nail in Downtown Jamestown had it all: a swank atmosphere, attractive crowd, 'two for one' drinks and 10 cent chicken wings.  Best of all, it was a solid rock club that was paying us $350.00 to perform on a Friday night.
The road-trip to Jamestown started from Garth's house on Comstock Avenue in Buffalo, NY.  The Parousia convoy consisted of a rented 14' truck (stuffed to the gills with equipment) plus two cars driving along the 90 W and then the 60 S, past Dunkirk and Fredonia.
As you can see by the note paper… we never really got clear instructions on where to go from our booking agent.  The best we could hope for was "It's on the left hand side. Look for a Mr. Donut on the right hand side" or something equally vague.  We didn't have Google Maps in those days and AAA didn't provide a triptik listing "The Rusty Nail".  Patt (Mr. Map) would always have to work on fine-tuning our trip strategy.
Parousia was paid $350.00 to trek out to Jamestown NY to perform at the Rusty Nail.  Of course expenses were high due to the distance but fortunately the truck rental expense was spread-out over three contiguous shows.  Gregg came out with us. He set up and ran sound for $50.00.  Mike Carroll ran lights for $40.00.  Dave Styn, head roadie earned his $20.00 and the rest of the road crew, Keith, Steve and Tom (Tim) earned $10.00 each.  Barry and Steve were reimbursed a total of $30.00 for gasoline. Other expense paid included $4.00 in tolls, $57.00 for a Motel and finally Backstage Productions took their booking fee ($52.50) for securing the gig.
The Rusty Nail was located West of Main Street and just North of West 2nd not far from the Chadakoin River.
Inside the club, Parousia was hyped as "Appearing Friday: Rockers from the 97 Rocks' Album" and that we were!  It was just weird and ironic that the one song chosen to be on the 97 Rocks album was "Miss Ogyny",  a song that Kim Watts co-wrote and sang. When Kim left the band in May over a dispute, we stopped performing the song (unless forced to by popular request).  Still, our name and Kim's song was out there now and we suddenly had a lot of new attention on us because of it.

The Rusty Nail kicked off its live entertainment week on Wednesday night starting with Lizard King, (a well known Doors tribute band that played all along the East Coast).  On Thursday it was a band called Tarkus, performing the music of Pink Floyd and E.L.P.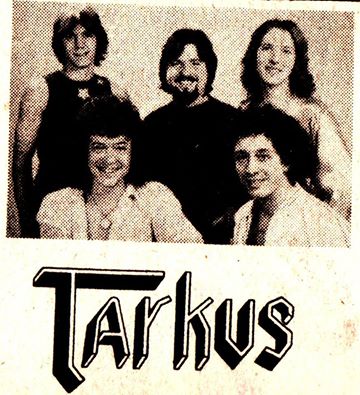 Saturday featured a band we knew from the Music Mall, Broken Silence who recently landed a track ("Love for the First Time") on the WPHD 103 FM "Homegrown album".
Parousia's performance at the Rusty Nail in Jamestown on Friday, September 18th was part of a three-day road-trip.  The Rusty Nail gig was sandwiched between gigs at the Starting Gate Café in Buffalo NY (on Thursday night, September 17) and the Wooden Nickel in Olean, NY (on Saturday night September 19).
The cool thing about performing back-to-back is that the road crew didn't have to return to the Music Mall at the end of each night to load and unload the equipment from the truck.  We simply kept the equipment on the truck and drove to the next gig.
Overall, September 1981 was an incredibly busy month for the band.  Beginning on Sept.3rd with a live radio broadcast on WGRQ (97 Rock) from Uncle Sam's!  That one gig really kicked it off for the band.  Suddenly Parousia was playing everywhere. Then, on Sept. 4th and 5th we played Friday and Saturday night at Plant-6 on Delaware Avenue in Kenmore, NY.
On September 10th the band played an encore performance at Uncle Sam's and on September 11th, we performed a concert in the social hall at Buffalo State College.
Parousia ended the month playing a gig on September 25th, at the Kinfolk Corral in Franklinville, NY.  In hindsight, a gig the band probably shouldn't have played!  Shit, we knew we were in big trouble when the sign on the marquee read, "The Kinfolk Corral, Family Fun Country Style!"  Hee Haw!