This Valentine's Day gig was sponsored by local smoke / gift / novelty shop "Starseed Enterprise".  We gave away "free invisible sins" (as promised on the flyer).  Packaged and delivered it was dubbed the "Love, Lust & Wreckage" show.
Our manager Colin Hilborne booked this gig for us.  Back in November, Colin accompanied us into the studio and produced three out of four songs recorded at Mark Studios in Clarence NY.  Later, those songs were published in an E.P. titled, "Turnaround" and released on the Rock Dog Records label, Hollywood, CA.  Colin filled out the music by orchestrating the existing instruments and creating a pleasant mix.  Colin previously worked with Elton John and the Small Faces.
Manager Colin Hilborne Loading up for the Broadway Joe's Gig.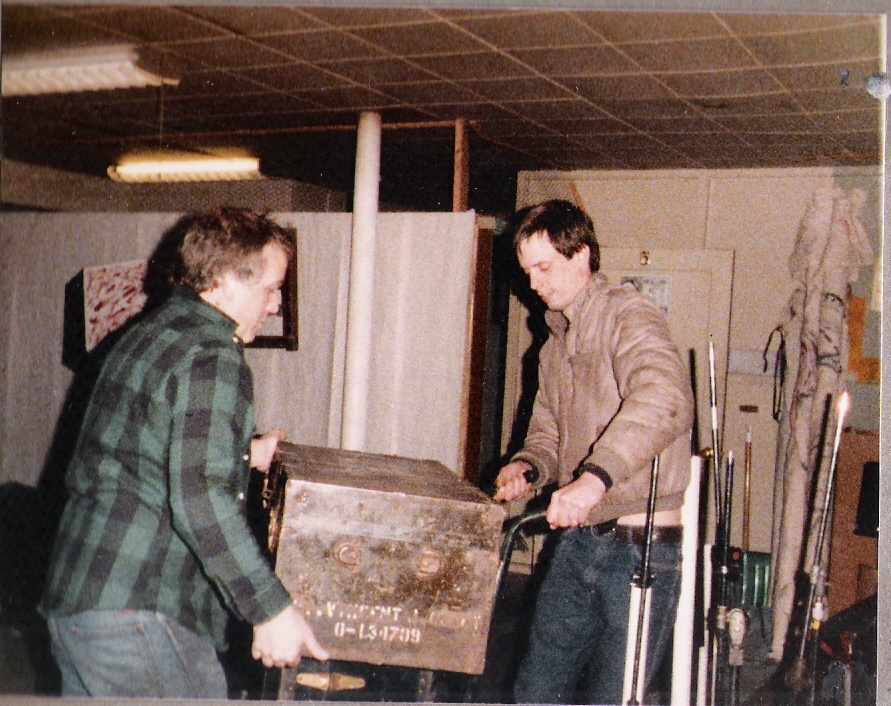 Colin Hilborne & friend loading & Packing for Broadway Joe's Gig.
On this night, we used Colin's sound engineer, John.  We called him "Crazy John" (not to be confused with John McGovern our preferred sound engineer).  'Crazy John' said we blew out his horn during the performance, so we not only had to pay him to run the sound board, we had to pay him to replace his horn. Not good!  It was a bit hard for us to believe we were responsible for that since John was in control of the volume.
This was the last show that Patt would have to sing and play keyboards. Bill Simms was brought on board to play keys in late January and we started rehearsing with him right away but the Valentines Day gig at Joe's was only a few weeks off and Bill wasn't ready for prime-time.  BIll's first Gig with the band would be in April, when we resumed our spring and summer shows at the Chamber.
Visually, we included a slide show presentation by our projectionist, fan and friend, Mark Sparacio.
We crafted and played a special Valentine's Day song on this night.  A rock version of "The Dating Game Theme".  from the 1970's.