After 32 years Parousia returns to the studio to record some of their most interesting and revered songs. The new recordings will feature material written during the band's alt-rock/ progressive rock phase at the Chamber (1984-1986), the band's personal rehearsal studio, art studio and performance venue, located on the second floor of a warehouse on Kenmore Ave near Elmwood Avenue, (set back from the street away from the eyes of the police!)
The opportunity to record the material came up when almost out of nowhere on September 16 2017, L.A. Artist and long-time band reunion holdout, Robert Lowden sent a text to Gerry Cannizzaro in Hollywood, "Let's make another Parousia album!."… Before Gerry could reply, Robert sent another text, "…or not".
After clearing up any confusion, it was agreed to move ahead with some new recordings. Gerry and Patt went to work and laid down the drum and keyboard parts for both songs followed by Robert on bass and Garth on guitar.
The musicians performing on these new recordings are: Patt Connolly (vocals, flute, keyboards); Garth Huels (guitar, vocals); Robert Lowden (bass, guitar, vocals) and Gerry North Cannizzaro (drums, engineer, producer). The same four musicians who wrote over 90% of Parousia's songs, including their very best material from 1984 to 1986, the band's most prolific writing period.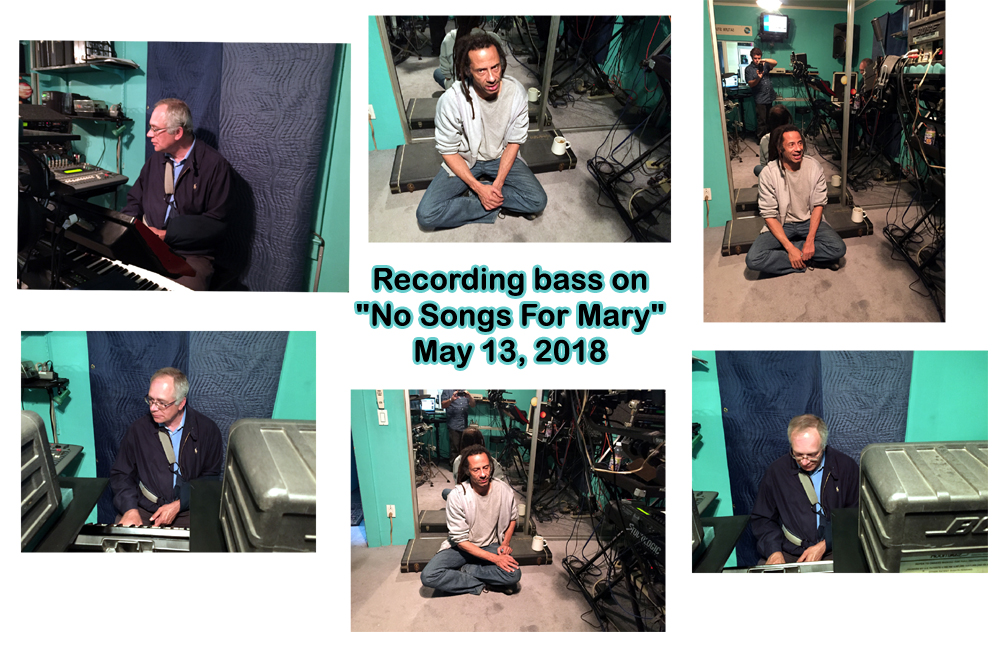 The new recordings will feature their most "liked" songs on social media. Songs recorded live on stage at various clubs but never professionally at any of their studio sessions in the 80's like Select Sound in Kenmore, Loft Studios in Cheektowaga, Mark Studios in Clarence, and Filippone Sound in Buffalo. All in all Parousia wrote and professionally recorded 20 songs between 1978 and 1986.
What to expect in the near future? The band reassembled in Hollywood at Saturn Studio (yes, Garth drove all-the-way out from Arizona) to begin recording some of their best stuff yet like "The Week Day Song" a nice progressive pop tune, sounding a bit like the band "Yes" or "Genesis" in the late 80's or maybe what the band "Asia" should have sounded like!
The second recording is "No Songs For Mary" a song that brings to life the classic 17th Century poem "For Whom the Bell Tolls", by John Dunne.
Also planned are two more songs including "Myron" a nine minute rock-operetta about a young man named Myron; tortured and shunned by his peers for thinking and acting differently until one day Myron explodes and enacts his revenge.
Next is one of the band's most beloved songs ever, the rock ballad "Mary's Gone", a true story about a mutual friend who lost his girlfriend Mary during a car accident. Mark and Mary's vacation from Buffalo to Florida was cut short when Mark suddenly slammed on the brakes and Mary's head hit the dashboard at full speed. His grief over the loss of Mary is put to song and the band has been looking forward to getting this one professionally recorded for a long time now and so far the prospects are good.
As of this writing, the basic tracks for "The Week Day Song" and "No Songs For Mary" have been recorded on 24-track at Saturn Studios in Hollywood, produced and engineered by Gerry Cannizzaro, (Drums). Once the vocals and flute are recorded the band will decide whether they want to release the two songs or hold back until two more songs are "in the can" and then release all four as a new E.P.
Thanks for checking in and check back anytime at https://ParousiaBuff.com for updates.