This was it, the last show for the band in its present form. Last Monday at the FM Station, Dudley Taft dropped the news… He announced that he had an offer to move back to Seattle and play in a band called "Freak Of Nature".  That same night, Marty Leggett (keyboards) and Gary Lee (bass) also threw in the towel.
A very tense week later, and without any rehearsal whatsoever, the band was set to play its last show at a club called "Goodies", located in Fullerton, CA. in Orange County, on a Tuesday night, April 17, 1990.  Gary Lee, the bass player, didn't bother to show up… not a big deal for us, Marty had the bass parts covered on keyboard.

At the gig, Dudley and Marty showed up at the last possible moment, said little more than "Hello".  Set up their equipment, did a sound check and once they were ready, the full band met backstage for the last goodbye.
Everyone stood about nervously for a moment sort of staring at each other when Marty said; "let's have a great show tonight guys". Which provided some relief from the tension, everyone looked at each other and saw agreement; we were going to go out with a bang tonight.
On stage, the band was on fire… tight and energetic, the music flowed easily from song to song and the band's songs really connected with the fans at Goodies.  In Orange County, CA rock fans are a lot like Western NY rock fans and aren't pretentious like Los Angeles   …All in all tonight was one of Parousia's best L.A. shows.
The management at Goodies made available two-camera video recording. For a small fee, a stage tech would video-tape the band's entire stage performance using a fixed, two-camera set-up controlled from the sound board. The audio track on the video-tape is direct from the mixing board. We decided to have it done and the entire show will be posted here on this page (if not already, check back soon).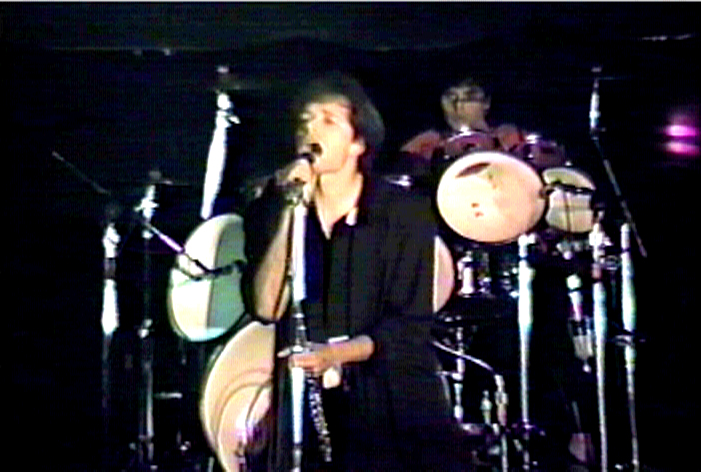 In spite of playing one of our best sets ever, at the end of it all, Marty and Dudley didn't go back stage afterward.
They took their gear down, loaded it into their cars. Before leaving, Marty said goodbye, good luck and shook hands. Dudley shook our hands and said, "Maybe this will help you guys decide what you really want to do with your lives…"
We tried not to roll our eyes. As Patt and I watched them leave, we were already discussing music, props and wardrobe for our next Parousia show… we'd been discussing putting together a rock-play… in the spirit of the 70's rock-shows with music and theatrics. It would be a grand undertaking to say the least… but we were ready to re-do the band and finally do what we set out to do when Patt shared his album of "Tommy" by the Who and it blew our minds… this was our chance to go for it…
Dudley Taft was the guitarist for Parousia for six-months from October 1989 to April 1990.  When he departed Parousia, it was to resurrect his old band in Seattle, called "Freak of Nature". I don't know how long he stayed in 'Freak', but Taft did have success playing the Seattle grunge rock scene. He played in the band Sweet Water (Atlantic records / Elektra Records) from 1990-1995. In 1995, Guitarist Taft departed the band during the recording of the album, "Superfriends" and the classic Sweet Water sound took shape with Rich Credo as sole guitarist.  After Sweet Water, Taft played with a band called, Second Coming (Capitol Records) from 1996-2000.
As for Marty Leggett; he went on to join a progressive band started by Jeff Pilsen from Dokken, called "Pendulum".  That didn't last long though. Pilsen replaced Marty shortly after the band received its advance from the record label because Marty spent the money on a new sports car instead of updated keyboard gear, like the band was expecting him to do.
Place Your Bets with dancer Susan Castang