Published In September 2017, the book, "History of Buffalo Music and Entertainment" written by Rick Falkowski was released to the public.  The book is a nostalgic journey into Buffalo New York's musical heritage from the 1830's to the early 1990's.
Parousia's name popped-up a few times throughout the book. Most notably during the height of the band's career as a classic rock cover band playing songs that ranged from progressive (Yes, Genesis, Supertramp, Focus, Max Webster) to hard rock (Aerosmith, Heart, Led Zeppelin, The WHO, Alice Cooper, The Tubes, Journey, Reo Speed Wagon) and New Wave (Blondie, Cheap Trick, Cars, Pat Benatar) and other popular artists, like The Beatles, David Bowie and Elton John.
Parousia's name first appears in the section of the book titled "ROCK BANDS AT McVAN'S   This chapter mentions many talented fledgling rock bands who began their career on the stages of McVan's.  At McVan's, you could put together a band tonight and within a month, you can have a gig at McVan's.  If your band sucked, JoeT would be pissed, and unlikely your band would ever play there again but if he saw promise, he'd give the band a chance to prove itself as evidenced by his immortal words spray painted on the wall backstage, "Play good, you haven't made it yet."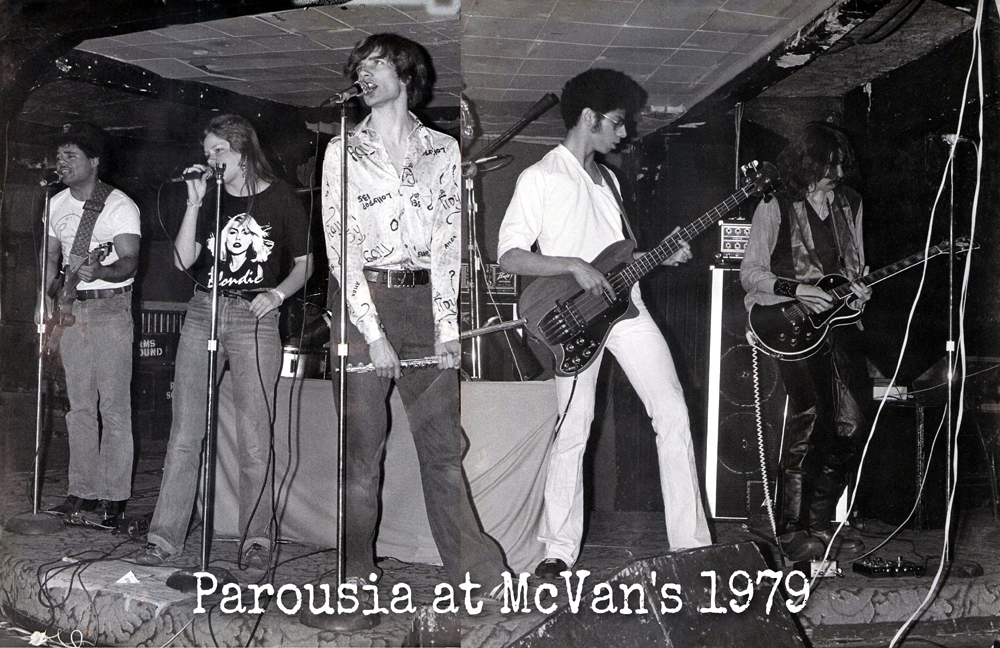 The paragraph written about Parousia sums up the band's career in too few words to really get the depth of what was accomplished from 1975-1992.   Parousia performed as a cover band for eight years, from 1975-1982 and then switched to playing original material for ten years, from 1983-1992.  Even though the band wrote and performed original music longer than music written by other artists, Parousia's name is omitted from the chapter on "Original Bands".
All throughout Parousia's career, the band always placed a heavy emphasis on writing and recording songs for an album and then hitting the road on a college tour to promote it.  We juggled that with struggling to make a living in Buffalo as most of us already lived on our own in apartments.
In order to keep the band self-sufficient, we had to conform to what the paying clubs wanted us to play and that was popular classic-rock music. The club owners didn't grade bands on musical proficiency, it was how many people you can get in the door, pay the cover charge, pay for drinks, eat food and dance their ass off (in order to get them sweating, thirsty and hungry for more…) we tried our best at picking songs most people would like but sometimes our musical choices were eccentric, kooky, dark and mysterious with musical integrity.
It never stopped us from writing and recording our own music. Whenever we could cobble together the money, or swing a deal,  Parousia booked studio sessions at Select Sound ("Place Your Bets", "MissOgyny"); Loft Studios ("Keep Running", "All The Time In The World", "Caesar Of The Modern Home", "The Weekend Starts Tonight", "She's Movin' Out To L.A.", "People's Court"); Mark Studios ("Tiffany", "Turnaround", "Graduation") and Filippone Sound ("Oh My Love", "Malmedy", "Revelation" "MissOgyny", "Pain Desire", "Lie Awake", "I'm Gonna Kill You", "Rock Bottom", "Ego's", "Life Is The Real").
All in all Parousia recorded 20 songs professionally.   Many more were recorded live on stage like, "Lucifer's Lament" from Uncle Sam's, (1981) "Cotton Holiday" and "Angel" recorded live on the "OIL OF DOG" radio  show (WBFO, 1979) hosted by Gary Storm.  "Myron" recorded live on Halloween in Olean, NY (1981) and "You Got Me All Crazy" recorded live on stage at McVan's (1979) .  Mores live original songs from the Plant 6 (1985) in Kenmore NY ("Overture1", "Modern Women", "No One Is Watching Me", "Land Of The Lost", "I Wish").
Several more were captured live at "The Chamber", Buffalo NY (1986) such as "Burned Bridges", "Power of Will" and the prog-instrumental "Northway/Vermont" (written about the bands unfortunate road-trip to play at a bar called "The Texas" in downtown Burlington Vermont).
Falkowski's book touches a bit on Parousia's career in L.A. but given the space afforded, there was no room to expand on the band's accomplishments in L.A.
After landing in Hollywood and doing the work necessary to release the band's four-song E.P. titled "Turnaround",  the band played over fifty shows in and around L.A. from 1988-1992, including such notable venues as the Whisky a-go-go, The Troubadour and The Roxy.
Many original songs were captured live at the band's performances in Southern California, such as "Mary's Gone" at the Music Machine in Santa Monica CA. and its musical sequel, "No Songs for Mary" recorded at Club 88 in Los Angeles, CA and "Tug Of War", recorded live at Bogart's in Long Beach, CA.
In addition to audio recordings, the band has many live video recordings gathered throughout the many shows. Most clips are live shows from New York (Rano, Plant 6 and The Chamber) and Los Angeles (Club 88, Roxy, Troubadour, F.M. Station). Video's are posted on the band's You Tube page.
In 1984, Parousia made a concept video of the song "Keep Running", professionally shot and produced. The footage of the band performing live was video taped at a loft in Buffalo NY by Randy Filippone, and the concept footage for the video was video taped live on location in Dallas Texas, shot by Randy's brother, Gregg Filippone. The video was edited in a Warner Brothers affiliate studio in Texas by Gregg.
The video was slotted to play the basement tapes segment featured on MTV but when MTV changed its format and dropped the basement tapes segment, their agreement to broadcast our video was terminated.
Falkowski's book mentions the band's inclusion on the first 97 rock Album, "Buffalo Rocks". It was a total shock to us that Parousia was included.
On February 18th, at 9:00 am, Parousia was notified by Starstream Records that our song "Miss Ogyny" was chosen to be on the first 97 Rock "home-grown" album.  This was a big deal for us to get airplay on WGRQ FM, a major AOR/classic rock radio station in Western NY.
The record label required that we submit a 24-track master tape of the song asap… problem being… we only had the four-track version that we recorded back in June at Randy Filippone's studio.  On February 19th at 3:00 am, Parousia re-recorded a 24-track version of Miss Ogyny at Select Sound.
We made the deadline and our song made it onto the album, although it was a rushed last minute job so we didn't really have a lot of opportunity to do much to it production-wise.
Parousia's song "MissOgyny" was also included on the Vinyl LP compilation album titled, "Bloodstains across Buffalo".
In his final mention about Parousia, Falkowski writes about Parousia's live performance at the "First Annual Buffalo Backstage Music Awards Show" at Rooftops Lounge,  November 23, 1981.
Parousia was nominated for two categories in the 1st annual Buffalo Backstage Music awards: 1) Best Show Group 2) Best Male Vocalist – Patt Connolly.  The place was packed, had to be at least a thousand people there.
All the most popular bands were there, along with their families, loved ones and fans. Everyone did their predictable little performances, some very good, of course.  Then we took the stage and performed 'Myron', a musically disjointed, sometimes ominous, sometimes dissonant, mini-rock opera about a mentally disturbed young man, in our blood stained smocks, straight jackets and wild eyed antics. When we finished, there was dead silence…  I looked out and jaws were literally dropped – – it was hilarious.