The Poindexters working at infamous Rock Dog Records in LaLa land have finally lifted their pointy-heads from cell-phones, iPads and game-simulators, long enough to arrange a release date for the NEW Parousia single and video, "The King Of Christmas".
The audio single "The King Of Christmas" is scheduled for public release on Friday, November 13, 2020 and available on the following music streaming sites: Spotify, Google Play/YouTube, iHeartRadio, Napster, Pandora, Tidal, Deezer, MediaNet, KKBOX, TikTok and select social media sites. CDs are available on the music site, Discogs.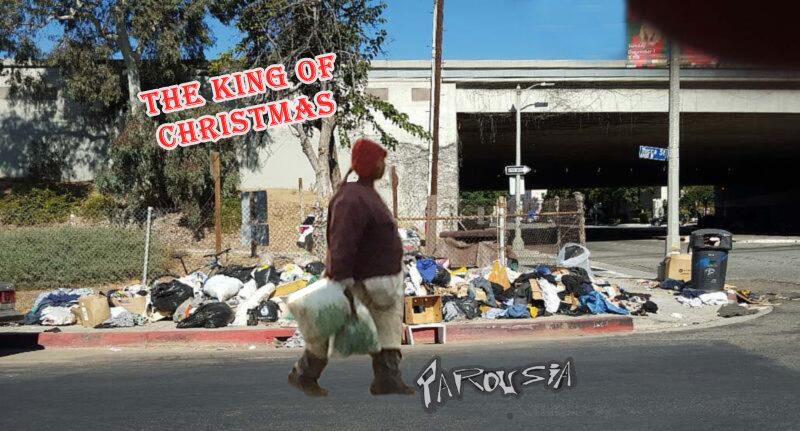 In conjunction with the release of the audio track, a music video produced by the band will simultaneously post to YouTube. The music video features real-life and scripted images from Hollywood and Downtown Los Angeles that provides a revealing look at the wealth gap in America.
"The King Of Christmas" is a visually entertaining addition to the audio track. Clever editing of video clips creates a disturbing social commentary, revealing a truth that cannot be denied. The wealth gap in America has become worse in recent years and the evidence of that is seen strewn along the sidewalks and streets of major cities throughout Southern California.
Specifically, the video weaves together an eye-opening contrast between the excessive lifestyles of the wealthy and politically connected, versus the empty life on the street for those experiencing homelessness. The video is an important reminder about contributing in some meaningful way to those who are less fortunate.
Each Christmas provides with us a new opportunity to reflect and take inventory of our spiritual lives. … what have we done to improve ourselves, our family, and our community and to make the world a better place?
To read about the making of the audio track "The King Of Christmas" click here: https://parousiabuff.com/recording-sessions/writing-and-recording-the-king-of-christmas-by-parousia