In 2020 Rock Dog Records conducted an audit on Brainstorm music sales over the past five years and noticed a increase, triggering their icy hearts to take pause to consider releasing a new album which highlights the best tracks from the first two albums, "A Separate Reality" and "Variations On A Dream".
Beginning on May 4, 2021, Rock Dog Records is scheduled to release a re-mastered compilation of the first two albums on all major music streaming sites including, Spotify , Apple Music , iTunes , Instagram / Facebook , TikTok / Resso , YouTube Music , Amazon , Soundtrack by Twitch , Pandora , Deezer , Tidal , iHeartRadio , ClaroMusica , Saavn , Boomplay (beta) , Anghami , KKBox , NetEase , Tencent , Triller (beta) and MediaNet.
The music for the first two albums, "A Separate Reality" (1994) and "Variations On A Dream" (1995) began as a concept starting soon after Parousia's last show at the Roxy Theatre Jan. 1992. All of the tracks on the first two Brainstorm albums are written by Patt Connolly, during the 1992-1993 period, except for "Alien-9" by Gerry Cannizzaro, a brief musical piece cobbled together from scraps.
To get the musical ideas down in a workable fashion, Patt produced a demo version of each song (keyboards, drum machine and flute) using a 4-track cassette recorder and then over to me for collaboration on drums and percussion.
From there, I had to figure out how to re-produce each song using whatever equipment that I had cobbled together at SATURN STUDIOS, at that time consisting of a single tape-based ADAT (8 tracks), a Roland MC-50 MIDI sequencer, a Roland U220 keyboard module, a KORG MIDI keyboard (w/four banks of sounds) and a "Frankenstein" electronic drum kit with a SIMMONS SDS9 drum module and a ROLAND R8M for a brain.
For mixing and effects, i used two YAMAHA ProMix 01 mixing consoles and two Alesis MIDIVERB II outboard effects.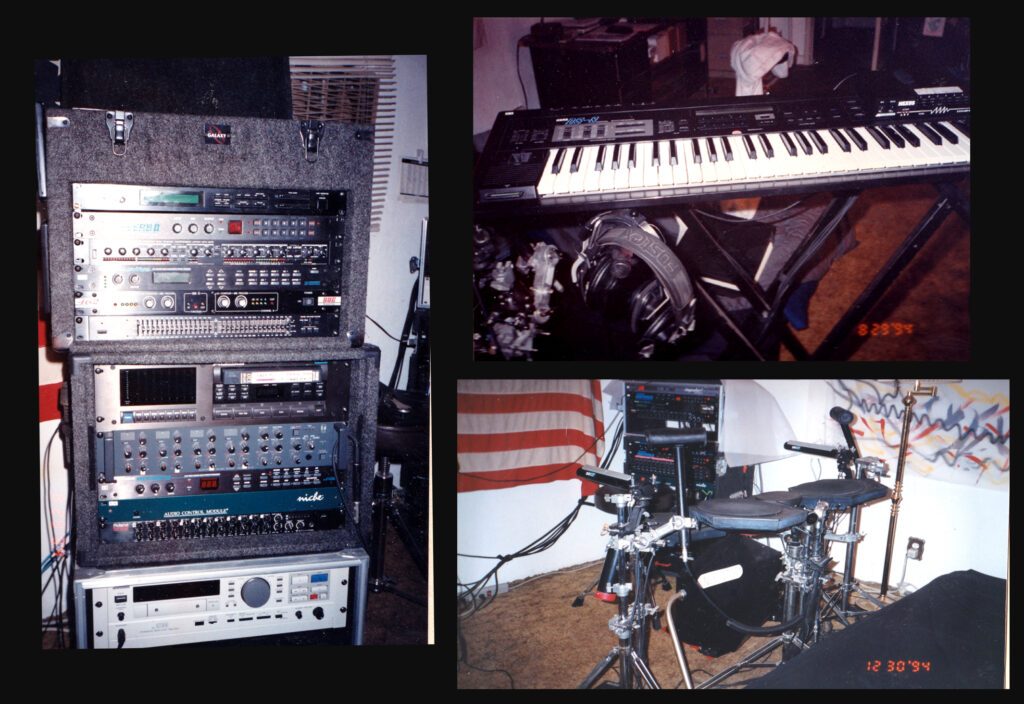 First thig I did at SATURN was reproduce the drum tracks, occasionally using real percussion in places where the drum modules did not cut it.
Once the basic drum/percussion tracks were completed, Patt re-recorded the keyboard parts onto the Roland sequencer and then both keyboard and drum parts were tweaked until satisfaction.
The final step was to add guitar, horns, flute, and Sound effects and then it was off to mixing and mastering.
The mixing and EQ for both albums were completed in-house, and the mastering was done at STONE HILL by Jason Roberts.".
Although the recording, mixing and mastering were completed at roughly the same time, "A Separate Reality" was commercially released first in 1994 and then one year later, "Variations On A Dream" in 1995.
Because all 32 songs were written and produced throughout the same time period, there is a certain cohesiveness that is missing from the next two albums, "The Technology Of Art" (1999) and "This Brave New World" (2003).