Here is the video of the entire "Virtual Reality" show performed live at the Roxy in January of 1992.
We didn't know this would be Parousia's final performance as a band. But looking back, I guess it just made sense…
Parousia had gone "full circle" at this point, going back to 1975 in Buffalo NY with Patt & Gerry jamming in the garage to songs from the rock opera "Tommy. Fascinated with how the album as a whole weaved the songs into a cohesive story.
From that early influence, sixteen years later, Patt and Gerry wrote the rock opera "Virtual Reality" and brought it to life at the Sunset Strip in Hollywood as a play.
Parousia's show at The Roxy Theatre in West Hollywood had been in the works for many months. Following the band's performances at the Troubadour on Santa Monica and the FM Station in N. Hollywood and the Whisky a-Go-Go; this was a big "step-up" to the prestigious Roxy Theater and all the talented musicians who played on that stage before us. Next door to the The Roxy stood the equally famous 'Rainbow Room' club and restaurant. All throughout the 60's, 70's and 80's The Rainbow Room on the strip was a popular hangout for such notables as Elton John, John Entwistle, Keith Moon, Alice Cooper, John Lennon, Ringo Starr and others. (John Belushi ate his last meal there in 1982).
What made The Roxy Theatre perfect for the band's performance of 'Virtual Reality' was the layout of the club. A large generous stage located against the back wall, cut in the shape of a hexagon, raised about 2.5' from the floor with plenty of room in front of the stage for the audience to gather and for the dancers to perform. VIP booths were located to the left of the stage. The main seating was in back, provided as traditional tiered theater seats, perfect for watching a rock-play like Virtual Reality.
We drew over 200 people into the club. That made me a bit nervous. It had been over two months since the band performed its last gig at The Troubadour, with only one rehearsal in between.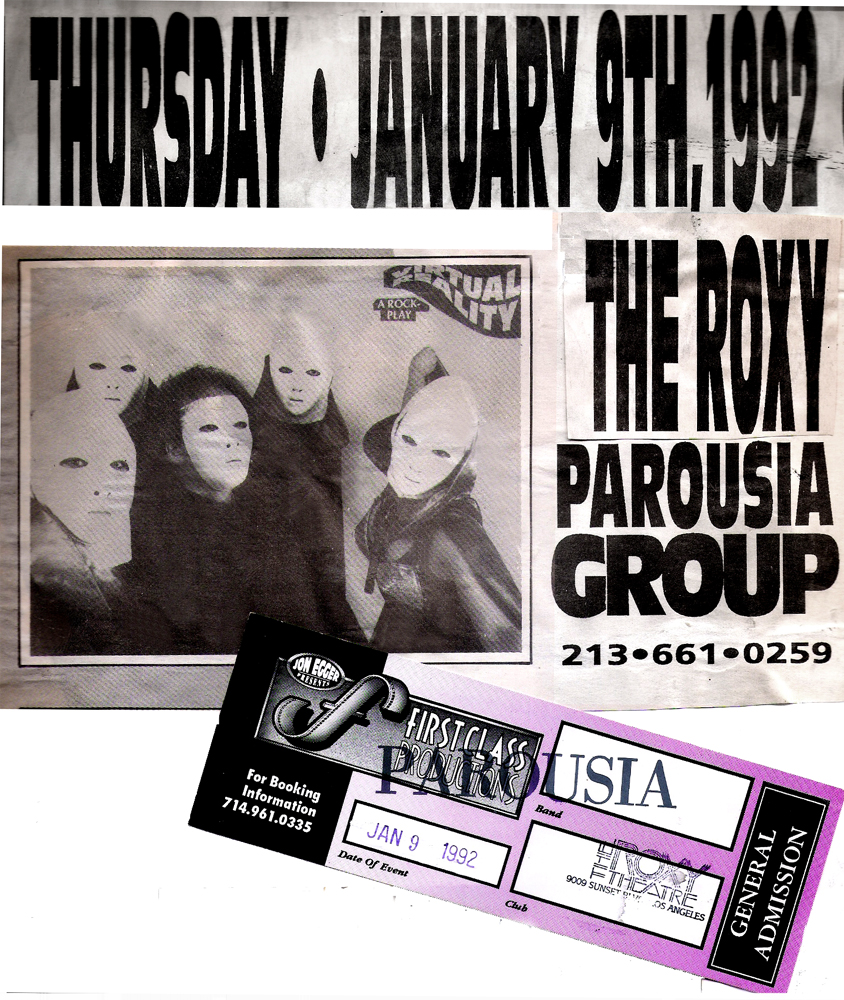 The show was tight, on cue, but some of the harmonies were a bit rough yet all in all it was a good show both sonically and visually. Turns out, the gig was more important than just a debut. Our music agent, Marianne Smith invited a producer who books music shows in small theaters across the U.S. None of us in the band knew that before hand. Yes, there were whispers about 'someone important' showing up, but that rumor wouldn't have been any different from what was heard before any other show.
After the gig, we had the mother of all parties back at the house on Berendo St. in Hollywood. People spilled out in front of the house, the sides of the house, and the back of the house. People drank and smoked and it was loud and ran to about four in the morning. Some people collapsed from their over-consumption. We attempted to mitigate circumstances by first attempting to revive the subjects through an ancient ritual and then, hiding any evidence of the band's involvement.
The house on Berendo Street in Hollywood was no stranger to wild parties, Patt, Eric and I (Gerry) lived there with a party animal from Canada affectionately known as "Wild Bill" from Ontario Canada. Wild Bill ran an independent record label; he produced punk-bands, financed the record pressing onto a 45 rpm, and then got the band distribution and did his own promotion.
It was a week after the show, I got the call. The guy's name I don't remember now, but he said he was a producer, he was invited down by Marianne Smith to consider producing the show. I said something stupid like "Ok,"… he started right in, "I didn't like it"… I didn't respond right away, I paused expecting him to say more, like provide some detail as to why he didn't like it. Eventually I said, "Ok… did you like any of it?" He said, "H-m-m-m, well maybe if I saw the band and the dancers all on the same stage…" (I guess he didn't like it that the dancers had to perform in front of the stage and not on it with the band). I paused again, expecting him to say more, maybe something abut the music… but no, nothing came. "OK, I'll work on making that happen and invite you back to take another look?" He said, "Well ok, …Marianne knows where to reach me" and then hung up.
At that point Marianne Smith decided to move on and work with other rock acts she was nurturing. It looked like Virtual Reality's time was up after a two year run. If we chose to continue with the show, it meant self-financing a massive production to create the visual experience our 'criticizer' suggested, and have both the band and the dancers all on the same level.
To bank-roll the entire project would mean leasing a small theater for a day (or weekend), paying for security, liability insurance, a sound engineer, lighting engineer, roadies, three musicians, three dancers and all the cost of rehearsals and promotion. It just wasn't financially possible without a loan, a big loan, which was unlikely without major industry backing… even though Parousia had been putting on shows for 16 years; neither Patt nor I had the history to show financial success with our artistic projects.
After this show, Patt and I decided to take a break from performing for a while, and we weren't sure what to do next, if anything. At this point, it felt like we did everything we wanted to try with a live band. I felt it was time to start focusing on recording.
Patt expressed interest in the recent "New Age" and "Contemporary Instrumental" music trend that had gained mainstream popularity, as evidenced by the rise of artists like Enya, Yanni, David Arknstone, Philip Glass, Steven Halpern, Mars Lasar, Paul Adams, Steve Roach, etc.
When I took a closer look at the genre, I found 70's progressive rock bands taking refuge under the "New Age" or "Contemporary Instrumental" umbrella, bands like Tangerine Dream, Enigma, Shadowfax and Secret Garden.
While I worked on enhancing my own ADAT based recording studio (later named Saturn Studios), Patt was busy writing a dozen instrumental songs and then recorded a demo on cassette using a four-track recorder. I listened to the songs and right away imagined a plethora of percussion sounds to enhance the music.
Over the next several years, under the band name Brainstorm, Patt Connolly and Gerry Cannizzaro wrote and recorded four contemporary instrumental albums titled "A Separate Reality", "Variations On A Dream", "The Technology Of Art" and "This Brave New World".