Parousia played four times in late 1981 at the Shady Grove on Route 219 in the town of Boston, NY .
First Gig at the Shady Grove – October 24th, 1981
We were the second rock band ever to play at the Shady Grove when they started booking live bands in October 1981.  Parousia performed on Saturday and Benhatzel performed on Thursday.  We knew the guys from Benhatzel pretty well as they were another local act that got their start at McVan's.
In 1982 Benhatzel and the Beez landed a track on the Buffalo home grown LP called "Rock to Riches" sponsored by local radio station Z98 WZIR FM.  The LP included two other bands we knew well, Stross Fletcher and Stiff Mitten.  A year earlier, Parousia was on the 1981 LP "Buffalo Rocks", sponsored by 97 Rock, WGRQ FM.
StarStream records release #RTR-8205… "Rock to Riches", Z98 WZIR FM LP (1982), Niagara Falls, NY, w/ Dennison Stars, Benhatzel, Buxx, Karen E. Russ, Triax, Stiff Mittin, Lebel, Stross Fletcher, Bit'er Cherry and The Beez

Second Gig at the Shady Grove – November 19th, 1981
Third Gig at the Shady Grove – December 12th, 1981
Last Gig at the Shady Grove – December 31st, 1981
This was Parousia's end-of-the-year gig on the most ultimate party night ever created in the history of partydom, New Years Eve.  It fell on a Thursday this year which marked the start of a long Holiday Weekend. 
The college students were well into winter break and the folks who worked for a living had the night off with no worries about having to return again until next Monday, giving them a minimum of three nights to party with lots of liquid libations and other forms of mood-altering inspirations …and that was A-OK by us. 
We knew this was going to be a good show with a big crowd as long as no 'misfortunes' were to strike… which there hadn't been any lately… which was unusual and why I thought I felt uneasy… but to be truthful, I was uneasy for another reason.  
Earlier in the evening back at the Music Mall, there were grumblings from Garth about quitting the band and those words fell particularly hard on me… not only would it be a major challenge to find another guitarist who could play as well as Garth but I knew from experience that when one major player leaves a band, it starts a chain reaction.  
Surely we would lose his brother Keith as a roadie.  Our keyboardist Eric Scheda would go with him as would our bass-player Bob Lowden and head roadie Dave Styn.  That would have put Patt, my brother and I back in the position we were in more than two years ago.  
That was scary to me…  I mean what else did I have in my life if not the band?  …a career as a stock boy at Tops Friendly Markets?   Granted I had been with both Parousia and Tops since the mid-seventies.  But what would my casual conversations with the girls I knew be like now?
"Hey Ger, how ya' been?" 
"Oh, Ok, the band broke up you know…" 
"Oh wow, so whatcha' doing now?" 
Well, uh you know I'm really focusing in on my career as a stock boy at Tops.  I see a lot of potential there…" 
"Oh, really?  Well um, let us know how you make out with that."
Why, just the thought of having Tops Supermarket as the 'main thrust' in my life made me clinically depressed.  In my mind Parousia had so much more to accomplish, new songs to write and show-sets to perform, but I understood Garth's frustration.  He was sick to death of performing the same classic rock tunes over and over again.  Garth said and I quote, "If I have to play 'Rebel Rebel' just one more time I'm gonna' flip out."   It was true; we were stuck in a hellish pattern of our own making.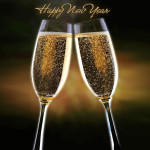 We wanted to perform all the time and make money as musicians, but to be successful in the club circuit a band was expected to play songs that people knew well.  That meant we were very limited when it came to performing our own songs. We could barely sneak an original into the set list and when we did, we just hoped that someone in the audience would like it enough to request it the next time we played there. 
Another factor that was ripping at the band was that we were playing farther and farther out of our home town, Buffalo.  Just go to our 'EVENTS' page and take a look at where else we were playing at this time in our history, go ahead, I'll wait……………………………………………… there you see? 
We were playing in the 'stix'… no-man's land… places like Chaffee, Holland, Hamburg, Olean, Boston, Alden, Franklinville and Jamestown!  Ok, to be fair Jamestown wasn't a hick town, and was a very cool place to play, (being the birthplace of Natalie Merchant and the band 10,000 Maniacs), but it was still a very very long way for us to drive.  
We played only once or twice each month close to home, like Dad's Café or Plant-6 or 'the Teen-Age Hot Spot' in Depew.   
Well, like a good team player Garth managed to bury his frustration for a while… I mean it wasn't our fault we didn't play in or near the city of Buffalo all that often.  That ostracization came from "the man".  The man in this case being StarStruck Productions and J.R. productions.  At the time, they were the big-muscle booking agencies around town.  They had a strangle-hold on the Buffalo music scene that was mafia-like in its scope and execution.
First, they signed all of the big-name bands in the area to exclusive contacts.  Talas, Cock Robin, Weekend, the Road, Cheeks, Fat Brat and Junction West, etc…  Then they would tell the club owners, "Ok, here's how it works… if you wanna' have our bands perform in your club, you won't hire any other bands outside of our agency Capeche?   Well, the club owners did just that and the bands, the bar and the agency goons made pant-loads of money.
There were some clubs, like Uncle Sam's, Stage-1 and After Dark who said F-U to that arrangement.  Those places brought in national acts and didn't need Starstruck or J.R. to fill their seats or dance floors.
As for all the other "rogue clubs" like Nietzsche's, the Continental and McVan's they were relegated to punk-rock and new-wave bands and although Parousia was sometimes confused with being a punk-band (thanks to 'Miss Ogyny' on the 97 Rock album and our numerous appearances at McVan's), in reality our music was better defined as 'album oriented'.
We performed songs like no other band could, like 'Cross-Eyed Mary' by Jethro Tull, 'Hocus Pocus' by Focus, 'Perpetual Change' by Yes, 'Second Coming'/ 'the Ballad of Dwight Fry' by Alice Cooper, 'Toronto Tontos' by Max Webster and our own Zappa-like original song, "Myron".
So if this were to be the end, it was a lot to give up… and if we did, we would be starting all over again.  Finding new musicians, building and learning a new set of songs and pulling together all the necessary equipment to make a show happen.  It would take months or up to a year before any of us would be off and running again and none of us really wanted to take that kind of a break from the club circuit. 
I needed to put all the band-worries aside for the moment to focus on making a great show on the biggest party night of the year, New Years Eve.
When we finally got to the Shady Grove to load-in it was freezing inside.  As usual, the club manager hadn't turned on the furnace.  This was typically done to save money.  The furnace would usually be turned on closer to show time just before the first customers came through the doors.
Gregg Filippone was doing sound that night.  I remember he ran the cable snake from the stage back to the sound board and left the cable draped over the furnace.  Of course Gregg had fully intended to move it before the furnace was turned on but then he forgot and it wasn't long before the room started to smell like burning plastic.  
Sure enough the club manager turned on the heat earlier than expected and the snake melted exposing the wires, making it useless.  Well, it was the snake owned by us, the band, which really sucked, now we had no choice but to send someone back to Buffalo to get Gregg's snake at his house. That someone was our loyal and dependable head roadie, Dave Styn who was a super-trooper and drove all that way on icy December roads to fetch Gregg's cable-snake.  Anyway, Gregg knew he would have to pay us to get the snake fixed and that kind of soured his mood for a while until later when he was able to alter his attitude by smoking certain leaves from flowering buds.
About an hour and a half later Dave returned with snake in hand (No I don't mean it that way)…  Finally we were ready to connect the cables to the sound board and plug-in the microphones.  We had no time to do a full sound-check but fortunately we had already played the Shady Grove three times before and knew how the sound played out in the room.  We had about 20-minutes to kill before hitting the stage to start this New Years Eve celebration a-rockin.  We all piled into the dressing room above the bar to chill out.
I was still pretty worried and anxious, it had been a very stressful day with snakes burning and talks of band members quitting.  Garth and his girlfriend Nikki were doing this trendy thing called 'whippets' and they were having a good time with it.  Well, they saw the distressed look on my face and Nikki said, "Ger, you have got to calm down man, everything will be ok".  And there it was…I was offered my first hit of the whippet balloon…
I thought "what the heck" I needed to do something to relax, and after all it was New Years Eve, the night for fun and life-changing events, right?  So, I inhaled with all my might and just as I held my breath, the manager shouts to us from the bottom of the stairs, "five minutes"…  My head felt like it was in another universe… I couldn't move.  I heard a high-pitched whining sound in my ears and everyone was laughing at me in muffled distant voices like I was trapped in a bad twilight zone episode…. I heard them reverberating in my head "HeeHEEhee HAhaHA HoHOho, look at Gerry" …  I was so high; I could barely get down the stairway that led to the stage. 
Somehow I made it behind my drums and everything was still spinning…  We started the show with the song "I'm Free" by The Who.  It began with slow simple strumming and then a crescendo of drums and guitars.  As soon as I started playing, I felt fine, I felt good, nothing like a bit of Keith Moon to get my ass going and besides if ol' Keith could do it high, I could too… of course Mr. Moon had the help of the band 'doctor' who injected stimulants into Keith's ankles but hey, adrenaline and caffeine worked fine for me.
We did a great show that night in spite of the earlier problems and we didn't play 'Rebel Rebel' in honor of Garth because we didn't want him to "flip out"… at least, not at a paid gig.