This show came right after the Parousia name appeared in the annual "Bar Exam," published on April 27th in the Canisius College newspaper, The Griffin.
Spring was in the Buffalo air, a time for hitting the clubs and partying outdoors was here.  There were a lot of party animals at Canisius, many of them avid concert goers who relied on the Bar Exam to tell them which bands were the brightest stars in Buffalo's night-time taverns.  And of course, other college folk liked to check out the Bar Exam to get a bead on the local talent.
The band got plenty of exposure from that one article. That really helped bring people in the door for tonight's May 5th show at McVans, with Parousia opening for Kent Weber's "Aunt Helen", a local favorite. Aunt Helen brought in lots of fans, and we all enjoyed playing to a full house on a Saturday at our favorite dive.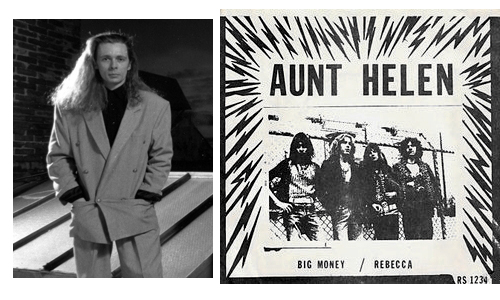 Other notable local bands mentioned in "the Bar Exam" are Talas*, Cock Robin*, Cheeks, Shakin' Smith, Ian Quail* and Sky (featuring guitarist Ken Wilczak who later went on to form "Fat Brat").
About Talas:
Talas formed in the late 1970's with Dave Constantino on guitar, Paul Vargas on drums, and Billy Sheehan on bass. All three sang leads and harmonies, and the band released a few albums that sold very well in the northeastern United States. Although the level of success Talas was looking for eluded them, Sheehan went on to join the David Lee Roth band and established himself as one of the premier bass players in rock music. Billy's current band is called Winery Dogs, you can check them out here: http://www.thewinerydogs.com/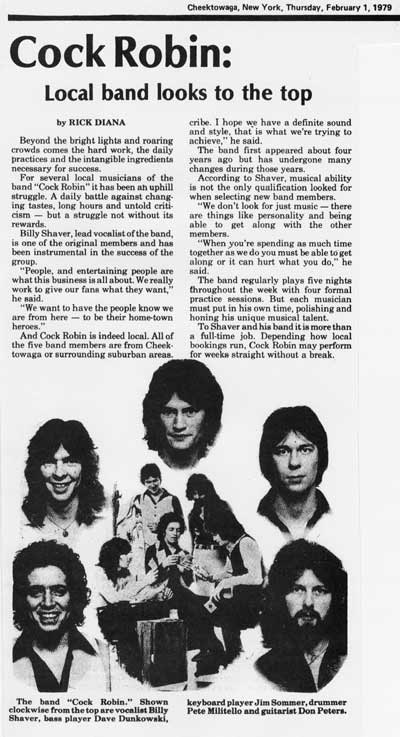 About Cock Robin:
This was Buffalo's premier cover band. They played the favorite classic rocks songs of the 1970's note for note. Two of my personal favorites were "White Punks on Dope" and "What Do You Want From Life" (by the Tubes), complete with exploding "baby's arm holding an apple". This group was a performing juggernaut often gigging for weeks straight without a break.
Cock Robin played at all the great local rock venues of the 70's including the Barrelhead, Bowinkles, After Dark, Stage One, Mickey Rats, McNasty's, He & She's, Patrick Henry's, Uncle Sam's, Gentleman Jims, Fast Annie's, the Four Fathoms The Wehrle Drive in and the Penny Arcade. I always enjoyed watching them play, they were all good musicians. In 1981, our paths would cross when Cock Robin members formed a group called "Dear Daddy" and landed a track on the 97 rock album along with our band, Parousia (https://parousiabuff.com/published-recordings/97-rock-buffalo-rocks-vol-1-1981) .
Our paths crossed again in February of 1984 when Parousia recorded six original songs at Loft Studios. The sessions were engineered by Cock Robin Keyboardist Jim Somers assisted by Cock Robin guitarist Donnie Peters. (https://parousiabuff.com/songs/loft-studios-february-1984-recording-session)
About Ken Wilczak/Sky:
The band 'Sky' was short lived and started out as a band called 'Peace Bridge', which later evolves into the band 'Sky'. They disbanded in 1980 and some members (Ken Wilczak) went on to form the band "Fat Brat" in 1981. Fat brat included: Ken Wilczak – Lead Guitar, Vocals; Bob Wilczak – Lead Guitar, Vocals; Mike Runo – Bass, Vocals; Paul Varga – Drums, Vocals; Fat Brat has been voted Top Band several times in the Buffalo Music Awards. Ken Wilczak and Bob Wilczak has won numerous Top Guitarist awards. Ken Wilczak was inducted into the Buffalo Music Hall of Fame in 1984
Paul Varga recorded with Talas; Bob Wilczak recorded with Actor; Ken Wilczak recorded with Jambo, Shake'n Smith and Witt Wood; Mike Runo recorded with Strider and Fare Trade. Fat Brat Website: http://fatbrat.weebly.com/band-members.html
About Cheeks:
Dan Gerous the drummer of Cheeks was a good friend of ours. He came out to Los Angeles not too long ago and it was good to see him again after many years of performing in Buffalo had gone by. Cheeks was one of buffalo's best new wave cover bands and they even played there own original songs too. In November of 1981 hey were voted best new wave band in the Buffalo Music awards show. A show that also featured Parousia performing our quirky original song, 'Myron' live on stage at Rooftops (much to the shock of many).
Read more here.
About Shakin' Smith:
As a teenager in the 1960's, Shakin Smith had some priceless opportunities to interact with a host of legendary figures in the world of blues music. These events transpired at the Governor's Inn, a bar on Buffalo, New York's East Side, which was a hotspot for blues. It was there that for the first time he met people such as Howlin' Wolf, Muddy Waters, Louis Myers, Junior Wells, Buddy Guy, and others.
Shakin Smith has continued to play at various clubs and other venues throughout the years, amazing audiences and constantly refining his harmonica playing skills, becoming an impressive virtuoso in his own right.  In fact, Shakin Smith has also turned to other sources for inspiration, drawing upon bebop jazz (from the likes of Lester Young and Charlie Parker), as well as European classical music. In 1985, Shakin Smith became the first blues musician to be inducted into the Buffalo Music Hall of Fame.
About Ian Quail:
*Ian Quail, a real throw back to the early seventies, was a band based in Buffalo, New York, and managed out of Atlanta. The group spent the majority of their four years together touring the Mid-West and South on the college town club circuit. During respites on tours, they played to a large and loyal fan base in the Buffalo area. The band played venues such as The Barrelhead, Harvey & Corky's Stage One, and Poor House West. They were also one of the very few local bands to ever play dates at the infamous Belle Starr in Colden.