Friday April 20, 1979 – Calasanctius School -167 Windsor Avenue. Buffalo, NY
This was our first time performing for Calasanctius.  We had just finished playing at "The Masthead" on Grant Street last Monday where we rocked it with "The George," a local new wave band.  I remember this night pretty well.
We were all jazzed to unleash our "Good vs. Evil" show set on the super-intelligent kiddies when we were approached by the headmaster…  He questioned us as to why we had a six-foot crucifix with a rolled-up window shade drawn across the horizontal arm… and what was on the shade?  My brother pulled on the string and drew down the 3' x 4' shade to reveal a very large bingo card drawn on it.  I saw the headmaster make the sign of the cross.
He (who we now believe was Rev.Ted Podson according to a good friend and alumnus from the school), suggested that, this being a religious institution, he would prefer that we not perform the stunt on stage but no, we argued with him saying that "this is the show your students paid to see"…were pretty confident that they could handle it and could understand that were making a distinction between one's own spirituality and the business of religion. Although in hindsight I guess we did intentionally embarrass and humiliate our hosts with our anti-establishment commentary.  But hey, I'm sure we inspired some critical thinking along the way.
We used the giant Crucifix during our rendition of the song "Hymn 43" by Jethro Tull.  My brother would sing, "Oh, Father high in heaven, Smile down upon your son, hey, hey.  Who's busy with his money games, oh…" and that was Barry's cue to pull the shade down and reveal the giant bingo card.  …and so it went.
The students at Caly loved us!  Our music really struck a chord with this crowd.  They liked our original songs the most; Myron, Lucifer's Lament, Revelation, Cotton Holiday, Malmedy, Oh My Love… They got it… our wit and sarcasm and our presentation.  This particular class liked us enough to have us back every year up until graduation.
We were honored to be appreciated by such an original "think-tank" like Calasanctius.  If you aren't familiar with the school here's a brief history:
"…One of the important features of the Buffalo landscape was an obscure private school founded by emigres and initially supported by them.  The Calasanctius Preparatory School was a hard-to-categorize place: not a "blue jacket" prep school, neither was it a diocesan Catholic school, though it was organized, run, and largely staffed by priests.  It was founded the year Sputnik went up in 1957 and in September, Calasanctius Preparatory School for the Gifted opened to students ranging from the 9th through 12th grade.    Its focus was on a new willingness to embrace learning, academic rigor, inquiry, or simply sheer brain-power as assets rather than detriments for the new age."
Saturday March 22, 1980 – Calasanctius School -Holiday Inn Grand Island, NY   
This was our second time performing for Calasanctius.  It was a school sponsored Junior Achievement event held at a Holiday Inn in Grand Island.  We were honored to be back performing for an audience that really liked us.  We especially needed that, coming off the heels of our March 19th gig at the Cambria Fire Hall playing at an event sponsored by St. Mary's School for the Deaf.  They were expecting a dance band and they got Parousia instead.  😯
Two notable pieces of history marked by this gig: It was the last show with our lighting tech "RMS Labs" aka' Lenny Krucenski, and our first gig with Dave Styn as roadie for Parousia.
It was snowing and cold as normal for March in Buffalo.  At the end of the night we were anxious to get outta' there and get to an after-party at Laura's house.  I was leaving with Gregg and Bob when Bob suddenly announced (as he often did) that he left something behind and ran back into the ballroom to get it.
Gregg got in his truck and started it up. He went to pull up closer to the door and ran over something… we got out and saw that it was Bob's bass.  He had left it leaning up against Gregg's truck.  I remember Gregg getting pretty upset about that…"what kind of a f*n idiot leaves his guitar leaning up against an idling truck," Gregg screamed into the night… thank god his bass was in a hard case.  I don't think he ever told Bob he ran it over.  Oops, I guess I just let the cat out of the bag. Sorry!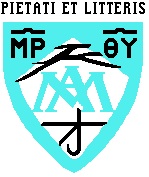 More Calasanctius history:
"…Faculty brats were the core of the student body of Calasanctius.  Volunteers and part-timers from UB and from Roswell Park did a lot of teaching, which encouraged more faculty support and engagement.  The school admitted girls long before the private schools did, and was co-educational while the elite Catholic schools remain gender-segregated.  Educated people wanted faculty credentialed like them and rigorous like them…"
Friday, June 5, 1981 – Calasanctius Graduation – Davio's on the boulevard
This was our third and final performance for Calasanctius.  This time the event was held at Davio's on Niagara Falls Blvd.  It was a place that catered mostly to wedding receptions, reunions and other reasons to party and get down.  Anyway, we didn't care where we were because we loved playing for this graduating class of super intelligent-beings and hey, there was a full bar just a few yards away.
I remember we were hanging out in the parking lot before the show.  Patt was out there and so was Robert.  I think Patt had been drinking a little bit otherwise he may not have done what he did.  I'm not sure how it started but Patt and Robert got into a discussion about who was faster.  I think Bob was bragging that he was a fast runner and could not be caught and Patt challenged him.
Before I knew what was happening they both took off like a bolt of lightning and the chase around the Davio's parking lot was on!  Man, I never saw the both of them move so fast!  I'll let Patt tell the rest of this story, not to steal his thunder.
Events that made this show memorable: This was our first year anniversary with the fabulous "Mike and Shirley light show" and this was my first or second gig with my new North drum kit!  It was a college graduation gift to me.  I bought it from Edwin's drum store on Broadway for about $960.00.  I paid for it with the last of my student loan money (which I paid back in its entirety six years later).
Final Facts about Calasanctius:
"…When City Honors was formed, Calasanctius lost its core constituency. The school's census gradually dwindled. The founder generation passed on and was replaced by well-meaning, traditional prep school managers who didn't comprehend the ethos of academic rigor that was plausible during the Kennedy New Frontier years and in June of 1991 Calasanctius closed its doors for good."
 – Calisantius text appears courtesy of Artvoice "Intellectuals and Community" Jan. 2013 by Bruce Fisher.