Parousia Rehearsals At Ultimate Storage, Delaware & Kenmore Ave, Kenmore, NY – Spring 1983
After a one-year departure from the seven-piece rock band PAROUSIA, with all of its 'majesty of rock' and 'pageantry of roll', the three of us (Garth Huels, Patt Connolly and Gerry Cannizzaro) were ready to disband 'Jukebox' and leave Top-40 behind to stretch our creative muscle and write our own material again.  Sure we'd miss the easy pay, the 30 minute set-ups and the low-pressure performances, but all three of us felt it was just time to move on.
Parousia reformed in the fall of 1983, reuniting with long-time bassist Robert Lowden and keyboardist Eric Scheda  We began writing songs in a rehearsal studio called 'Ultimate Storage', a multi-story brick building on the corner of Delaware and Kenmore Ave. formerly a retirement home.  Parousia was one of the first bands to rent a studio at Ultimate Storage but it wasn't long before it filled to capacity, with a waiting list to get in.
We talked about musical direction and in general, we kept it loose.  We decided right-away not to cover tunes by other artists and write our own material. The plan was to perform fewer shows and to make each show more of an event.
We decided that we would stay a 'rock band'… with a very wide definition of whatever 'rock' was to us musically.  We began experimenting a lot.  Most of our songs came from either a single riff or a melody that one of us prepared, or created on the fly from a drum-riff.  Then we would jam on that one line and develop it from there.
We thought we had a working core of five musicians but then two months into it, Eric Scheda was offered a solid paying-gig with the top-40 band  "Street Life" and off he went… (can't say i blame him).
Eric's departure resulted in a bit of a delay until Patt picked up the slack on keyboards, consisting then of a Roland Juno-6 and a Casio M-10 (with four presets).
Meanwhile, Garth's employer Starseed Enterprise took an interest in the band's new direction and 'commissioned' Parousia to record a radio ad for broadcast on WPHD FM.  Starseed also sponsored a "Welcome Back Parousia" advertisement in Buffalo Backstage Magazine.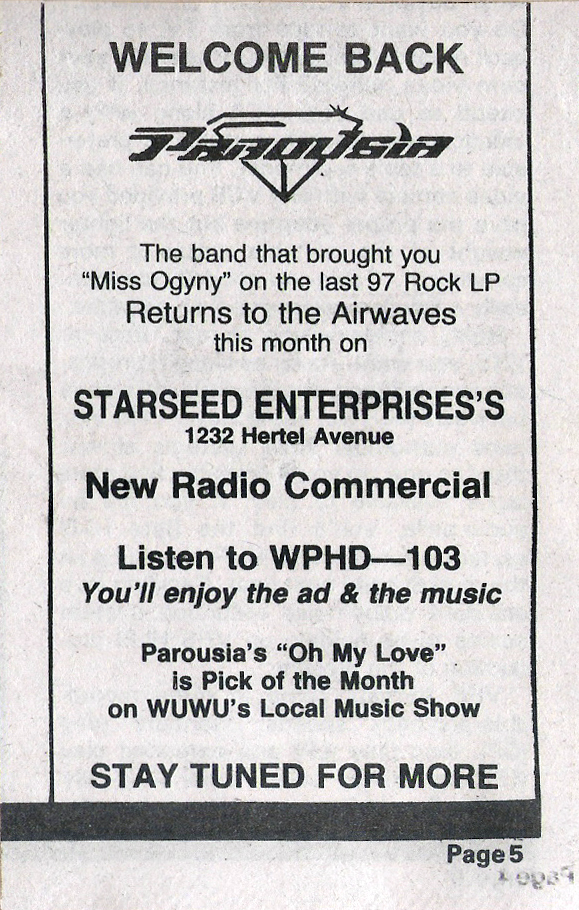 The word of the band's reunion eventually got around and some of Parousia's  earlier recordings ("Oh My Love", "Miss Ogyny" and "Revelation") were re-broadcast on local stations, WUWU and WPHD FM.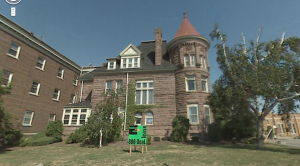 Things were feeling good to us so the band continued-on as original artists despite a tough market in Western NY.  Once the band developed enough material, we made plans to book ourselves on a college tour and eventually get out on the road full-time, away from Buffalo for a while.
Around this same time, MTV was in full swing and we were competing with an explosion of visual styles including Punk Rock, New Wave, Heavy Metal, Retro-50's and a mish-mash of hair-bands plus Michael Jackson. Eventually the band settled on a classic-rock look and in hind-site some of our choices in wardrobe had the band looking a bit like Spinal Tap.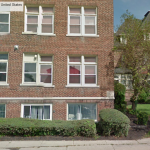 The first tunes from the band's rehearsal sessions at Ultimate Storage were recorded in less than a year at Loft studios in February 1984:  "Keep Running", "All the Time in the World", "The Weekend Starts Tonight", "Caesar of the Modern Home" and "People's Court". These six songs eventually became "The Loft" album.